Canadian musician/producer
Devin Townsend
is an enigma. His career and discography is mind-boggling both in the quality and variety of material within, but also the sheer volume. To date, he has released something approximating 25 studio albums (9 as a solo artist and 16 in collaboration with others), and that is before we begin to scratch the surface of his early musical career. If you're not a metalhead though, the chances are you won't even have heard of him. By Jove, are you missing out.
Take this latest effort as an example. Shorn, literally (see right), of his extreme metallic leanings, we find him back teaming up with his self-titled 'Project' to continue his exploration of the arena-filling euphoric rock that so endeared 2014's
Sky Blue
release to his fanbase. Essentially, what we have here is part-symphonic rock, part-pagan folk with short stabs at both dream pop and power metal. Digging in, we find another chapter has been added to "The Devin Townsend Book Of More Is More". Now that hasn't always been the case, but this is new Devin here; clean, sober and loving life. In fact, he's really opened up to the point where he's now collaborating with his band. It's a process that he has described as "more streamlined, more efficient and more fulfilling". Essentially that means he churns out a load of rough material, brings it to rehearsal and the band help him smooth it all out.
Anneke Van Giersbergen is back adding her infectious, joyous vocal to the mix. Here though, surprisingly, she is used more sparingly, adding harmonies to lift the vocal blend rather than performing a reprise of the starring role she took on the band's last release. So less is more? Huh? Certainly, those thrilling bursts from her that bubble up through the mix, pop like little, effervescent fireworks. Less may actually be more effective! It's almost hard to imagine a Dev album without her now. Wouldn't it be like drinking flat
Coke
? That gospel choir fill is also back making things "epic" and here he uses them to flood the senses - just don't try counting the layers.
There's strong hints from his back catalogue, from
Sky Blue
,
Epicloud
and also Infinity. In fact, originally featuring on that 1999
Infinity
album, the opener is a remaster of the song "Truth". That, coupled with an inspired remix of Ween's "Transdermal Celebration" bookend the album. The former re-introduces Dev's calling card; his ultra-high production values and those big, expansive layers. The latter is catchy as hell and is certainly worth inclusion if just for the lush line "Laid on the lawn, he's already home when the morning rain hits his face". Despite it's spaced-out crystal backline, it does feel disconnected from the rest of the album and should be viewed as a bit of a bonus track. Certainly, that 5-minute cosmic, multi-part extended wash smacks of showing off.
In fact it's a slight over-simplification, but you could almost divide this album down the middle. The best tracks do all seem to come straight off the bat. "Stormbending" features Dev at his most heartfelt, belting out his lyrics like his chest is bursting with pride; determined to expand our minds and souls with lines like "Time is a human construct / A new world below the waves". The warbling guitar solo looms large here; a mere hint of its increased use later on. It is back firing behind the strutting pomp of the chugging strings that drive "Failure". The volume of it certainly adds a burst of grunt to Dev's wandering vocal. You do get the sense that he's more interested in building the sonic crush this time round than throwing out unique vocal tricks. It is driving us assuredly down a fantasy/power metal road.
Then, like two magnificent sunbursts we get "Secret Sciences" and "Higher". The catchy riff and superb build of the former invigorates, opening with the intriguing line "Yesterday I woke afraid / unable to discern if the fears were even tangible" before revealing the concept with "Let it go anyway / Let it be a part of yesterday". Essentially the man is preaching that we must love our selves and our kind and to do that we have to be the bigger man in any problem situation; to change our own perception. It's a theme that spreads itself from this core track, threading its way throughout the album. Behind it all, we are wonderfully re-introduced to Anneke and a sublime walking bass guitar riff. That explosion into the chorus is a joy and when the vocal drifts back in the mix there is a creeping top line lead to pick out the hooks.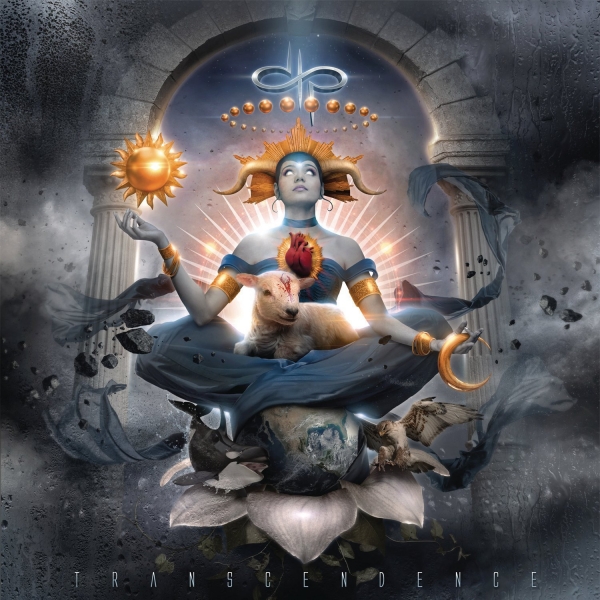 On to that other doozy, "Higher". From gentle beginnings - an opening hush that echoes elements from 2011's
Ghost
and even Foo Fighters' own experiment with the soft on 2005's
In Your Honor
- we hit the exclamation to go "Higher! Higher! Higher!". Rest assured, by the time it hits the track's apex, we're experiencing a mid-section hitting manic technical jazz guitar, complete with brash sweeps, roars and down-tuned chug-obsessed guitar. It all bristles with the same glorious madness that his 2011
Deconstruction
album was built upon. Here though, the band always keep the song's heart close by returning to the light at regular intervals. Those final orchestral movements offer Dev the chance to bring the choir to the fore and they lead us back to the track's climax. Is this not the very definition of "epic metal"?
There are a few weaknesses to consider and those do come in the promised latter half of the album. "Stars" certainly provides the same sort of initial comedown as it's neighbour. Deliberate, but here it is less ambitious. The chord structures begin to feel a little anachronistic; the slumbering vocal hush yearns to be adored. But still that walking middle-eight in repose is a killer cut-away. These little moments of genius make such simple songs essential. The main vocal certainly knows when to take a backseat in the mix to the glorious warmth of the choir. What doesn't run so smoothly is the continuous full-bore hit that the title-track attempts straight after. The baritones in the choir set the mood and then Anneke takes over and the oppressive flood of the thing begins to melt away. But does it go anywhere, does it say anything or is it mere filler? It seems you can be crushed by heavily-layered mood music. Who knew?
One final thorn is left but all I'll say is have a listen to the song "Have I Told You Lately?" by Van Morrison, Rod Stewart or any other artist, before listening to "From My Heart" and try not to marry the two. It's impossible, right? Even a heart-warming message like that isn't worth an eight-minute run time though.
So yes, it's a cracking release from DTP but it's not without fault. You certainly get your money's worth though and only a fool would hesitate before recommending it. With an insanely-successful career like that behind him, you can be sure that an on-point Devin Townsend is a goddamn genius. Out-of-synch, he's merely essential listening.
Also online @
The Line Of Best Fit
=
http://www.thelineofbestfit.com/reviews/albums/devin-townsend-project-transcendence