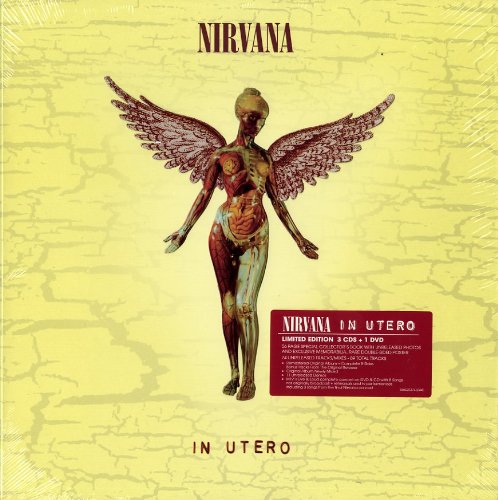 It's 1993 and the nation's disaffected youth have their new anti-heroes. Nirvana, as a consequence, are being battered by the unrelenting, uncaring glare of the media and it is tearing them apart. With their last album having sold 30 million copies, they have gone from being an unknown garage band to being one of the most controversial rock 'n' roll groups of all time. Whilst Kurt may have been at the epicentre of it all, the whole band are cursed with the knowledge that the next thing they write together is going to be dissected and assimilated like never before. Could they, should they, serve up another Nevermind?
Honestly, with that ravenous, yet faceless, trend-following populace watching their every move, In Utero never stood a chance. Yet what eventually emerged was shockingly brittle, confrontational, heart-wrenching and violent – in essence, it was an undeniably effective resolution to what was, at the time, an impossible question. As expected, it was hauled over the coals and begrudgingly accepted; an album that failed to be Nevermind and yet burned with a raw quality so intense that it could only increase the band's value as a commodity. Reflecting on what turned out to be such a short time spent in the spotlight, Nirvana managed with these 12 songs to challenge and change us as fans.

20 years have passed since that time and this fan can still be found regularly spinning these tracks; others have been recently spotted on MySpace writing short stories based on the song-titles ('Rape Me' is a particularly savage read). Of course, with it being a 20th anniversary, the record label is about to release what Cobain would probably have called a cash cow. These deluxe multi-format reissues are however, of course, being marketed as a commemoration to a little slice of historical greatness.


And great it is. From the swaggering fire that burns through 'Serve The Servants' and continues on through the lumbering, grunge-loaded 'Very Ape' to the populist abandon of 'Frances Farmer Will Have Her Revenge On Seattle', 'Radio Friendly Unit Shifter' and the overtly simplistic ramble of 'Dumb'. From the sonic bombardment of 'Scentless Apprentice', 'Tourette's' and 'Milk It' to the Freudian psychology and fertile emotions embedded within 'Heart-Shaped Box', 'All Apologies', 'Pennyroyal Tea' and the menacingly vitriolic 'Rape Me'. The songs remain as affective today as they were effective.


Elsewhere, you'll find Grohl's lush 'Marigold', the droll 'Moist Vagina' and the menacing 'I Hate Myself And I Want To Die, all there for folks who don't have any of their other "found down the back of the sofa" rare releases. Apart from those and the fresh instrumental finds, 'Forgotten Tune' and 'Jam', the real selling point here is the tacked-on Live & Loud DVD. It's a pretty clean recording of their 1993 gig at Seattle's Pier 48 and comes with its own set of extras tacked on (the highlights of which are the rough cover of The Cars' 'My Best Friend's Girl' and Kurt's impromptu drum solo during rehearsal).


Playing like a chunk of history, every visual performance of Nirvana's is worth grabbing hold of and the video of this post-release December 1993 gig is no different. Here, upon their familiar angel-adorned barbed-wire stage, Dave's flying mop of hair, Krist's bouncing and Pat's lurching are mere sideshows to the static Kurt with his manic eyes, grinding teeth and twisted smiles. It all starts with a wail of feedback which prompts an immediate wave of crowdsurfers (and occasional shoulder-jumper) to rise up and pay homage. Predictably, the band play straight through with only the occasional break to tune-up or to launch the odd personal insult or sarcastic comment – anything to break the tension. Somehow amidst all this innate ferocity it remains an oddly sterile, yet utterly absorbing affair. In this nude state, the music is brutally effective, and by the end we're being pitched into chaos as Kurt gobs and goads his audience whilst all around him the band lay waste to their kit and props.


There really is a veritable deluge of ephemera attached to the deluxe editions of this release, so there is certainly plenty for fans and collectors to hunker down over. Be warned though, there is plenty of dross to wade through until you're able to reveal anything of true value. If you've got the cash to splash, amongst all the bonus tracks, live cuts and B-sides, you'll find a complete 2013 mix of the album by original engineer Steve Albini alongside the original 1993 version. None of this changes the fact that 20 years on, as one of the most passionate and reactionary albums ever made, it remains a masterpiece of mind over matter and deserves being lauded over in this manner. The real genius, of course, lies with the fact that whilst holding up a mirror to their own neuroses, they managed to reflect our own back at us.